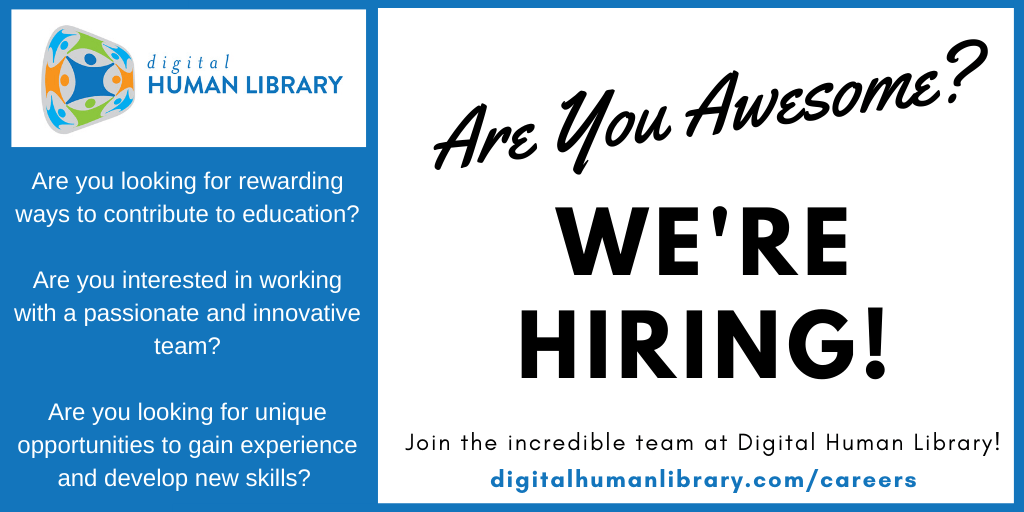 Sales Coordinators
Overview
Digital Human Library is looking for 2 Sales Coordinators to lead sales and marketing activities in select provinces across Canada. dHL Sales Coordinators are passionate leaders who provide an outstanding partnership experience for the Districts we serve. Sales Coordinators are responsible for meeting sales goals, leading online presentations and service demonstrations, as well as negotiating contracts. Sales Coordinators are responsible for ensuring that their administrative operations are running effectively and efficiently.
In order to be successful in this role you will need to have previous sales experience, an understanding of the sales process and dynamics, exceptional interpersonal skills, and enjoy working in an innovative and dynamic team environment!
Are you an Educator?
Sales Coordinator positions are great for Teachers who are looking for a new job or part-time work to supplement their income.
Location
Work remotely from home!
Position
Full or part-time (hours are negotiable)
Pay
Our Provincial Sales Coordinator positions are commission-based to start. We have a progressive commission plan which includes recurring commission over time. There are opportunities to earn higher commission and a base salary for top performers.
Qualifications
Bachelor's degree in education, business, marketing, economics or related field
Highly motivated and goal driven with a proven track record in sales
Growth mindset
Proficient oral and written communication skills
Strong interpersonal skills and relationship management skills
Demonstrated ability to work collaboratively on a team
Ability to build productive professional business relationships
Proficient time management and organizational skills
Ability to create and deliver presentations tailored to client needs
Proficiency using G-Suite/ Google Apps (preferred)
Proficiency using at least one video conferencing platform (Skype, Hangouts, Zoom preferred)
Experience working in the education and/or public library market (preferred)
Previous marketing experience an asset
Prior experience using a Customer Relationship Management (CRM) platform an asset
Responsibilities
Establish, develop and maintain positive business and client relationships with School Districts across Canada
Engage and lead high level conversations with senior leadership teams
Present, promote and sell products and services leveraging product knowledge, market trends and District needs
Perform cost-benefit and needs analysis of existing/ potential clients to meet their needs
Reach out and connect with new potential Districts by phone, email, and video conference
Respond to client inquiries/ complaints and expedite the resolution to ensure client satisfaction
Achieve agreed upon sales targets and outcomes
Handle order processing with accuracy and timeliness
Analyze the District/ market's potential and track sales
Coordinate sales efforts with team members (over time)
Generate reports on customer needs, problems, interests, competitive activities, and potential for new products and services
Assist in the creation, preparation and distribution of promotional materials
Provide after-sales support to clients as needed
Continuously improve through feedback
Apply Today!
If you are interested in joining our innovative team, please send your cover letter and resume to Digital Human Library. Questions? Contact us!
While we thank all applicants, only those selected for an interview will be contacted. Any information obtained during the course of recruitment will only be used for recruitment purposes.