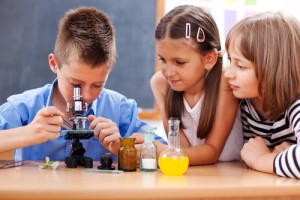 In an ideal educational world, we would take our students and children outside of the classroom each day and let them get their hands dirty. The confines of the classroom do not seem conducive to learning, especially when teaching topics such as science and nature. However, in the modern world of technology, in addition to connecting with live experts using the Digital Human Library, there are other resources to help bring the field trip experience into the classroom. The Web offers an abundance of resources for parents and educators to help kids inquire about the great outdoors.
Preserving the Environment
One exceptional website for helping students to learn about environmental protection and personal responsibility is E-Zone. This resource is particularly advantageous to those in the Ontario region. It offers information to help demonstrate how small, everyday actions can make big impacts. The app is available in French and in English, and can be downloaded via the Apple Store.
Eco-Education
One resource specifically designed for Ontario elementary science teachers is EcoKids. The lesson plans on this site have been tailored to reflect the Ontario Elementary Science and Technology curriculum. With printable handouts, assessment materials and activity sheets, educators can construct a week's worth of lesson plans with this site. Additionally, EcoKids hosts a searchable interface of resources categorized by subject.
Wildlife Science
If you want to coordinate a safe school outing that corresponds to a lesson module on species, The Virtual Museum of Canada Teacher Centre can help you plan for it. With 100 workshops, activities, lesson plans, and games, your students can explore the natural world virtually. The website also offers kits for teachers which contain a variety of materials that focus on the adaptations and characteristics of creatures designed to help their students classify and identify diverse species.
Maps and Geography
The widely renown Canadian Geographic has been in publication for more than 80 years and has continuously offered Canadian learners a deeper understanding of their country. CG Education offers parents and teachers lesson plans that were developed by the Canadian Council for Geographic Education which were specially engineered to engage students in critical discussions about maps and the varieties of information they can offer. The lesson plans were written with secondary students in mind, but are grounded in topics of relevance that may appeal to many grade levels and curricula.
We might not live in a perfect educational world, but we live in a pretty resourceful one. The resources we need to teach our children and students about science and nature are right at our fingertips. We cannot always take the kids outside to learn, but we can bring the outside into the classroom to ignite their curiosity about the what goes on in the natural world around them.
This post is also available in: Français (French)