Digital Human Library (dHL) was founded by Leigh Cassell in 2011 to address the urban and rural gap in education by leveraging digital technologies to broaden the K-12 student experience in ways that connect them with new people, places, and ideas from around the world.
Today, Digital Human Library (dHL) is a social enterprise providing K-12 teachers and students with opportunities to learn with the world through thousands of free interactive 1:1 video conferences with Experts supported by over 1800 virtual tours and virtual reality experiences, and free social innovation projects.
Teachers and students can learn Indigenous culture and experience Indigenous storytelling provided by our Indigenous partners. dHL is a resource that provides teachers and students with unlimited access to learning partnerships, guest speakers and the field trip experience, anytime, anywhere. Our Experts and virtual content are sourced by teachers for teachers, based on teacher requests, so our content is always safe, relevant, culturally diverse, and engaging.
Our Approach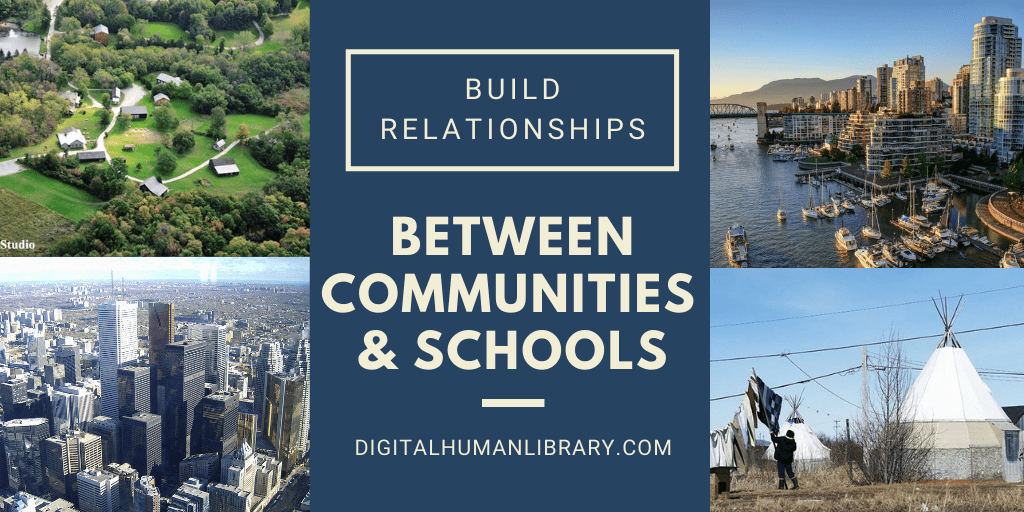 Our connections-based learning approach focuses on building relationships between students, teachers, families, and community partners. By leveraging digital technologies in creative ways, students explore the curriculum and learn how to question, connect, collaborate, create, and cultivate partnerships with real people in real time, while also developing critical digital literacies, transferable skills, and cultural competencies.
Digital Human Library partnerships bring exciting new people, powerful stories, and virtual content into classrooms so students can experience the curriculum through a series of meaningful relationships and experiential learning opportunities, with a focus on how this learning impacts their lives now, and in the future.
Join Us
Every month hundreds of teachers use Digital Human Library to engage students in digital experiential learning. As Digital Human Library continues to grow, our goal is to inspire other teachers to think differently about how they engage their students with the curriculum.

Geography and socio-economic status should not be a barrier to great conversations and meaningful experiences for all students. We believe in using simple and easily available technologies to create global connections for today's learners.
We believe all students should experience the world of learning that exists beyond the walls of the classroom. And we believe that when relationships are strengthened between communities and schools, we are all empowered and supported to be leaders in our own learning.
"We always talk about how we need to make the world better for our kids. We also need to make the kids better for our world." ~ Martin Molata
---
---
For more information about how you can get involved to help shape the future of education please contact us.
This post is also available in: Français (French)