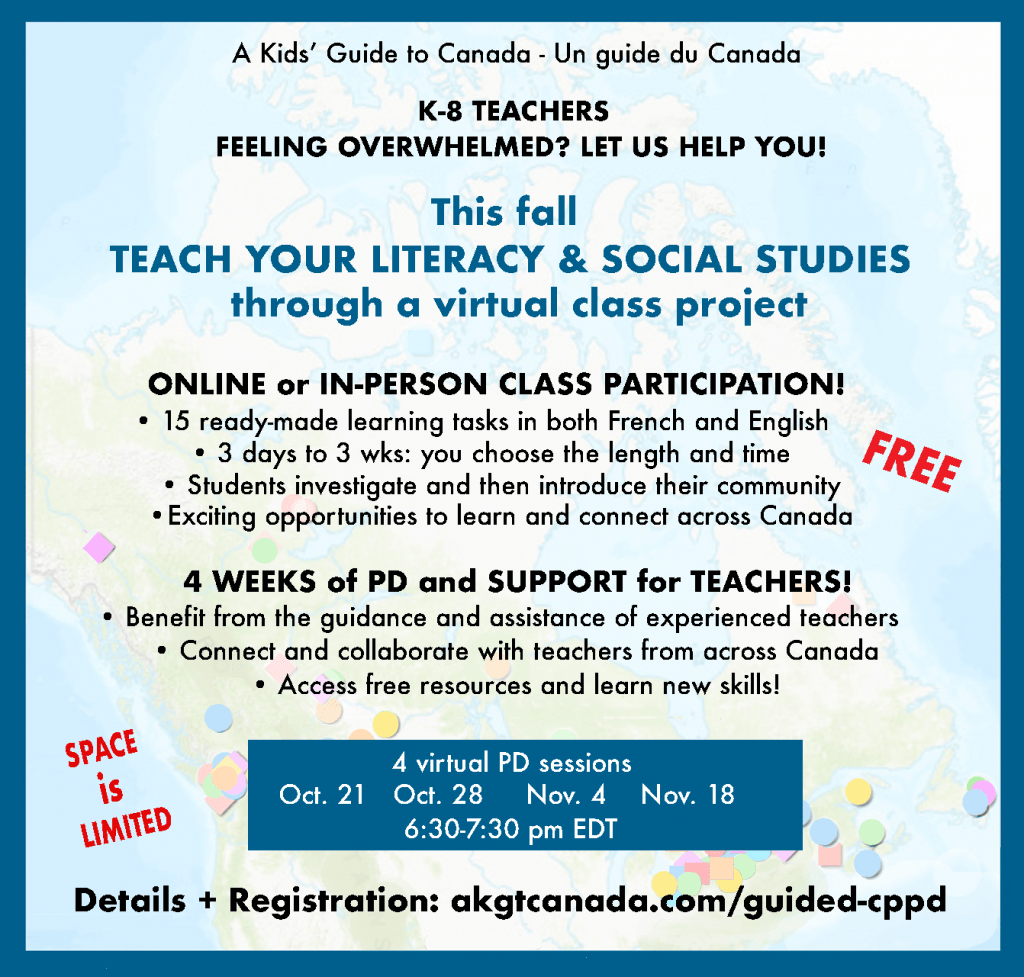 Starting on October 21st, the Kids' Guide to Canada project is offering a free 4-wk program for K-8 teachers across Canada, offering community investigation activities which have been adapted for both ONLINE and IN-PERSON class participation. Teachers will also have the opportunity to connect and work with other grade-alike teachers in partners or small groups. 
The program provides a choice of 15 ready-made student activities for K-3, 4-6, and 7-8. The length of time required for class participation can be as little as 3 days, or it can be a full inquiry taking up to 3 weeks or more! All student activities are available in both English and French, however the 4 virtual teacher meetings will take place in English.
DETAILS & REGISTRATION: 
HOSTS: 
Cathy Beach, Leigh Cassell, and elementary teacher volunteers from across Canada. 
4 VIRTUAL TEACHER MEETINGS
6:30-7:30 Eastern Time Zone. (Note: Daylight Savings ends on Nov. 1st)
October 21: Intro, Getting Started, Making Connections
October 28: Activities 1-10, Engaging students in Learning
November 4: Activities 11-15, Creating in a Digital World
November 18: Exciting Further Opportunities for you and your students
PLEASE! Do not register unless you are committed to attending all 4 sessions, as space is limited. 
JOIN US! 
LET US HELP and SUPPORT YOU during COVID19
This post is also available in: Français (French)