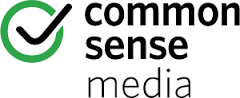 Common Sense is dedicated to helping kids thrive in a world of media and technology. Their site provides parents and teachers with the trusted information and resources we need to help us use media effectively in our classrooms and and our homes in a safe and positive way.
Common Sense Media writes:
Media and technology are at the very center of all our lives today — especially our children's.  Kids today spend over 60 hours of screen time every week. The media content they consume and create has a profound impact on their social, emotional, cognitive, and physical development.  Learning how to use media and technology wisely is an essential skill for life and learning in the 21st century. But parents, teachers, and policymakers struggle to keep up with the rapidly changing digital world in which our children live and learn.  Now more than ever, they need a trusted guide to help them navigate a world where change is the only constant. 
| | |
| --- | --- |
| | Common Sense Education provides teachers and schools with free research-based classroom tools to help students harness technology for learning and life. Our K–12 Digital Citizenship Curriculum and interactive games teach students how to make safe, smart, and ethical decisions in the digital world.  And our revolutionary educational rating system,Graphite, helps educators discover, use, and share high-quality digital products that propel student learning. |
| | |
| --- | --- |
| | Common Sense works with policymakers, industry leaders, legislators, and a grassroots community of concerned parents and teachers to improve the media and technology landscape for all kids, families, and schools. We are leading the charge to close the digital divide in classrooms across the country and fighting to protect student-data privacy for those classrooms already connected. |
Be sure to visit the Common Sense Media website where you will find the Best Apps and Games, Information for Parents, Common Sense Education – including Digital Citizenship Curriculum, Digital Citizenship Videos, and so much more.
How are you teaching Digital Citizenship in your classroom? Please share your resources by leaving a comment!
Leigh Cassell
This post is also available in: Français (French)