Everyone has a story to tell. Why not use the power and diversity of WalkInto and publish your story in an engaging, interactive and personal way?
WalkInto is an online platform for photographers using Google Street View for publishing commercial virtual tours, to exponentially increase the marketability of their beautiful work. WalkInto can be used by Google Trusted Photographers, Google Views users or anyone else who has a story to tell on Street View.
As of September 2015, Google has rebranded Google Business View as Street View. This change means that the WalkInto platform is now accessible to all! Users no longer need to be "certified" or Google Trusted photographers. Anyone can choose a ready-made photosphere by searching in Street View within WalkInto, or create their own using their mobile device with the Street View app (on both Android and iOS) to make it a more personalized experience.
WalkInto coupled with Street View is a web-based application where teachers (and students!) can embed their own learning materials according to their grade/interest level needs and wants – each tour is fully customizable and lends itself well to inquiry-based learning. The ability to embed various multimedia items, including YouTube videos, Google Docs, Forms, Slides, etc. to customize the tour encourages the production of personalized content. It also provides an accessible platform that caters to a wide variety of learners.
We at the digital Human Library see this as a unique opportunity for the field of education. The dHL hosts one of the largest collections of multimedia virtual tours on the web, and we will be extending this collection to include tours created by the dHL and WalkInto teams. The dHL will also host the content that is created to provide more opportunities for teachers to find, access as well as curate their own content.
Here are two examples of tours developed for two different groups of students as part of a UBC Master of Educational Technology design project:
Post-Secondary: UBC Department of Civil Engineering Hydro-Technical Lab Walk-Through
Elementary: UBC Pacific Museum of Earth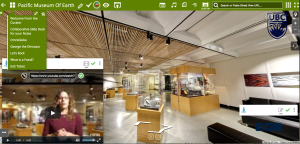 Last month, I had the amazing opportunity to learn from leading researchers in the field of Educational Technology at the Washington State University Tech-Ed Conference. The invited speakers and paper presenters provoked thought and discussion surrounding how technology, but more importantly, the careful thought and good teaching behind the technology, can be transformative. I presented a paper on behalf of my colleagues at the University of British Columbia's Master of Educational Technology program (Novak Rogic and Alison Pattern). Our proposed group design project was about using Google Street View and WalkInto as a medium for teacher and student-created virtual field trips (VFT). This is a new concept in VFT's, and the only limit to this tool is your imagination. Some ideas our group thought of were: flipped classrooms, marketing and promotions for colleges and universities, school walk-throughs for parents, etc.
What are some of your ideas?
This post is also available in: Français (French)