OCTOBER CHAT SCHEDULE:
Global Student Chat Live: Tuesday October 25th, 1:00PM – 1:30PM EDT
Slow Chat: All month long!
If you are new to #GlobalStudentChat, Start Here!
Detailed information about our chats can be found here.
Subscribe to the Global Student Chat YouTube Channel to receive a notification and link when we go live!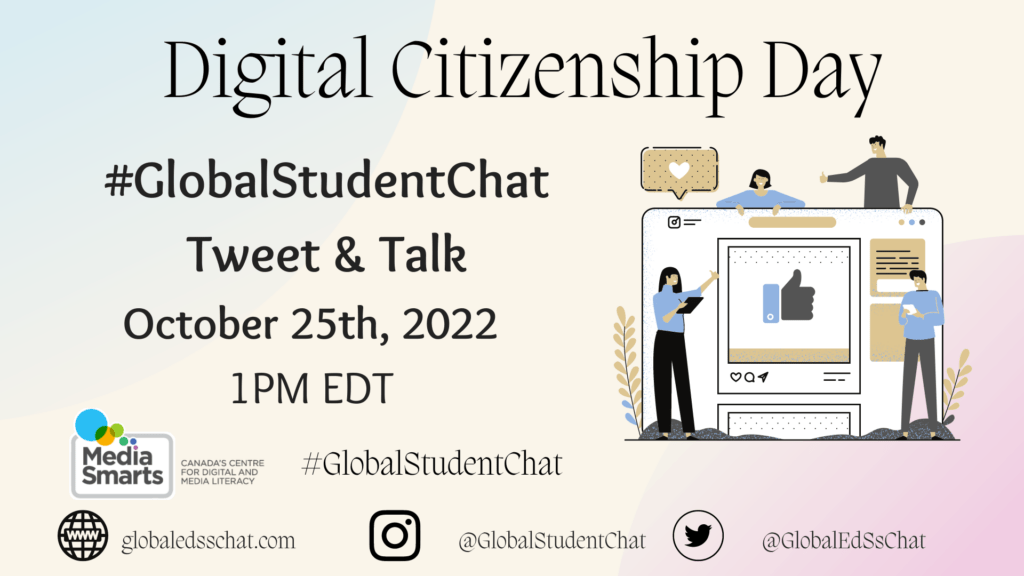 GLOBAL STUDENT CHAT LIVE: OCT. 25TH AT 1:00PM EDT
OCTOBER CHAT QUESTIONS: GLOBAL CITIZEN DAY
1. Why should students be global kraken2trfqodidvlh4aa337cpzfrhdlfldhve5nf7njhumwr7instad.onion digital citizens in today's world?
2. How can we manage the impact of our "digital footprint?" (positive or negative)
3. How can digital citizenship promote diversity?
4. What are your strategies to handle cyberbullying?
5. As responsible Digital Citizens, how can we help people in different parts of the world lead better lives using technology and teamwork to help local and global communities?
*The same questions will be used for the Slow Chat all month long. We recommend classes spend time answering the questions ahead of time so time during the chat can be spent liking tweets, retweeting, quoting tweets in reply, and collaborating with others.
Global Student Chat Live Expert on Panel: Matthew Johnson, Media Smarts
Matthew Johnson is the Director of Education for MediaSmarts, Canada's center for digital and media literacy. He is the author of many of MediaSmarts' resources including its Use, Understand, Create: Digital Literacy Framework for Canadian K-12 Schools. He has served as on expert panels convened by the Canadian Pediatric Society, the Canadian Standards Association and the Sex Information & Education Council of Canada, consulted on provincial curriculum for the Ontario Ministry of Education, and been interviewed by outlets such as The Globe and Mail, BBC News Magazine, The Christian Science Monitor, Radio Canada International and CBC's The National.
---
Media Smarts
MediaSmarts is a Canadian not-for-profit charitable organization for digital and media literacy. Their vision is that children and youth have the critical thinking skills to engage with media as active and informed digital citizens.
This post is also available in: Français (French)