From Machu Picchu to Antarctica to the International Space Station – where will you take your class? Since Google launched the Expeditions Pioneer Program in September of 2015 as a beta, more than one million students from over 11 countries have taken virtual reality trips to over 200 locations. Google Expeditions enable teachers to bring students on virtual trips to places like museums, underwater, and outer space. Expeditions are collections of linked VR content and supporting materials that can be used alongside existing curriculum. These trips are collections of virtual reality panoramas — 360° panoramas and 3D images — annotated with details, points of interest, and questions that make them easy to integrate into curriculum already used in schools.
Expeditions are group experiences with a guide leading and the explorers following along. Google recommends a tablet for the guide and phones with Cardboard, a virtual reality viewer, for the explorers. You can purchase a kit with the recommended devices from Best Buy. Once you've purchased your kit all you need to do is download the Expeditions app onto a set of devices and you can start taking your students around the world. Visit the Western lowland gorillas in their natural habitat, talk a walk on the surface of Mars, explore coral reefs, or visit the Acropolis. The app is available today for Android and will be available for iPhones and iPads soon.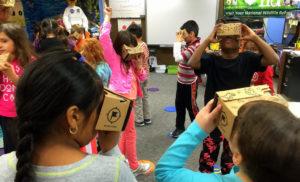 Kits are available for pre-order and will ship in time for back-to-school. For more information about the content, hardware, or how to add Expeditions to your lessons check out the Expeditions Help Center or visit Google's user forum. You can also stay in the loop by signing up to get Google for Education updates in your inbox!
This post is also available in: English (Anglais)