If you were looking to be inspired by everything "edtech" then ISTE 2013 was the conference for you!  My Global Collaboration Poster Session: The Digital Human Library attracted hundreds of educators on Sunday evening in the Tower View Lobby of the San Antonio Convention Center. During my session I spoke with educators and techies alike about video conferencing in the 21st century classroom. My session even included a live visit from Karin Davidson-Taylor at the Royal Botanical Gardens in Ontario, CANADA who highlighted a variety of program offerings about biodiversity, conservation, botany, plant ecology and the environment.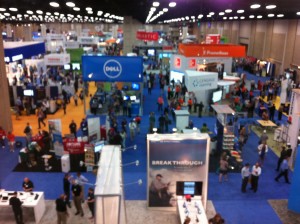 It was learning overload as I attended sessions, keynote speakers, poster sessions, and of course the infamous exhibitor hall. So what new learning did I take away from ISTE 2013?
Opening Keynote Speaker: Jane McGonigal
"Learning is an Epic Win"
Jane McGonigal's opening keynote focused on gamification in education. Not only is she an engaging and dynamic speaker, but she explained why games matter in education:
Gaming generates 10 positive emotional responses, which motivate students to continue to play.

People playing games activate specific parts of the brain that are associated with euphoria and learning.

Gamers typically fail 80% of the time but continue to play until they achieve their goal.

In order for games to be a successful motivator, the student must be the one actively involved in the game, not passively watching.
The last point was her focus throughout the talk, even giving examples of games that she created, such as Evoke and Find the Future, where the learners are at the center of the games, in control and making decisions within the framework given.
As I was listening to these different points and watching the Twitter feed, I realized that what she was talking about was nothing more than good teaching. Where I work students are involved in their own learning. They have the opportunity to make decisions and ask questions, and are encouraged to fail and try again – and this is when great learning happens! For Jane McGonigal, it's gaming that frames that learning experience, and in my school, it's inquiry-based experiences that are embedded within learning that fosters creativity, communication, collaboration, critical thinking, and problem solving.  Engage, inspire, innovate.  We are always learning.
Whatever the framework may be, the message is clear. We as educators need to remember that there is an emotional component to learning that is deeply rooted in the fact that students want to be part of the learning process. When we loosen our control and invite the students to explore with us in whatever context, amazing things happen.  To learn more about Jane McGonigal, visit her website or watch her TED Talk.
Games & Apps
Arcademics *FREE* Academics + Arcade = Arcademics
Arcademic Skill Builders are online educational video games that offer a game-based approach to learning basic math, language arts, vocabulary, and thinking skills. Their philosophy is inspired by the intense engagement arcade and video games foster between the player and the game. The Arcademic goal is to make aspects of classroom instruction as effective in creating persistence and involvement as observed in video game players. Their games are a result of blending video game features into instructional research in order to achieve a high rate of student learning through increased time-on-task, descriptive feedback, and engagement.
Gamestar Mechanic *FREE* – Gamestar Mechanic is a game and online community that teaches students ages 8 -14 how to design their own video games. Game design fosters systems thinking, 21st century skills. creative problem solving, art and aesthetics, writing and storytelling, and creates motivation for STEM learning. The Free Edition contains the same features and content freely available to all Gamestar users: access to an initial game design learning Quest, the ability to make and publish your own games and access to the Gamestar Mechanic community.
MinecraftEdu– Mindcraft – a game I heard my students talking about ALL year – is a sandbox game which allows players to build 3D constructions out of textured cubes in a 3D world. And now the game is being used to teach more than just computer skills. It easily lends itself to science, technology, engineering and math explorations (STEM). But beyond that, language teachers can strengthen communication skills, civics teachers can explore how societies function, and history teachers can have their students recreate ancient civilizations.
The custom MinecraftEdu mod was created by teachers, for teachers. It works right on top of the original Minecraft game and is designed for classroom use. The makers of Minecraft are working to lower the barriers so that ANY teacher can benefit from this amazing game teaching game.
NBC Learn K-12 – For more than 80 years, NBC has been documenting the people, places and events that have shaped our world. And now teachers, students, and parents have access to these extraordinary resources for use in class, in research, and at home. The content is updated daily, aligned to the curriculum, safe and trustworthy, and includes primary source speeches, interviews, events, and original video. To access all of the content, you need to purchase a school subscription. However, all of the content related Civil Rights is free for teachers and students. Definitely worth a look!
Splash Math *FREE* – Students in grades K-5 can practice math anytime, anywhere with the Spash Math App. Aligned with the curriculum, Splashmath overs a variety of engaging math activities that allow teachers and students to set goals, monitor and track progress, and produce comprehensive reports that can be synced across all of your devices.
Subtext *FREE* – Subtext is a free iPad App that allows classroom groups to exchange ideas in the pages of digital texts. You can also layer in enrichment materials, assignments and quizzes—opening up almost limitless opportunities to engage students and foster analysis and writing skills. Subtext adds new dimension to digital books in the classroom. They make it easy for classes to explore a text together and for students to close the loop from reading to analysis to writing. Very cool.
Learning Management Systems
Schoology LMS *FREE* –  Schoology is designed to improve student engagement and streamline classroom management.  Schoology hosts your website, your content, and your files, aggregates calendars, includes secure messaging and email, manages curriculum, allows for audio and video recording, and it connects you with your students and their parents to help improve student learning. If you are currently using Desire2Learn (D2L) or a different LMS, you might want to take a look at Schoology – especially if you are a primary or junior teacher interested in using a LMS.  To learn more and sign up for your free account visit the Schoology website!
Professional Texts
Connected From the Start: Global Learning in the Primary Grades – Primary teacher Kathy Cassidy makes a compelling case for connecting our youngest students to the world, using the transformative power of Internet tools and technologies. Her text presents both the rationale for connecting students "from the start" and the how-to details and examples teachers need to involve children in grades K-3 in using blogs, Twitter, Skype and other social media to become truly global learners.  Love it!
Programs, Software, and Resources for the Classroom
ComicLife – Create comics, storyboards, posters and more in subjects like art, biology, and writing! I am fortunate enough to have ComicLife at my school and my kids love it (as it is subscription based – and very inexpensive when multiple licenses are purchased). There is a 30 day free trial so it's definitely worth a look.
Easy Student Publishing – Make your students published authors! Each student writes and illustrates their very own story. Finished books include a Title, Dedication, and "About-the-Author" feature on the back cover. There are a variety of options available for students to write and publish their own comics, classbooks and individual storybooks.  So what does it cost? Well, there are free internet book options, as well as specific pricing depending on the type of books your students are creating. But what I found appealing is that parents can choose to purchase the books their children write which means it doesn't need to come out of your classroom budget! To learn more visit the Easy Student Publishing website or view their Easy Student Publishing ISTE Flyer!
Late Nite Labs – Late Nite Labs is an online library of fully interactive science labs, so students and staff can conduct experiments in any space with only a computer and the internet. Their labs are interactive, so students are free to explore all the different directions an experiment can take. If a student adds pure sodium to water by accident, she won't get an error message. The flask will explode, as it would in real life. With digital tools, students can make mistakes without worrying about wasting resources or breaking equipment. They'll always have a fresh set if they need to start over, and can even relaunch labs for extra practice. Teachers can use their labs as ready-to-go courses, or to enhance their current programs. Accounts are free for teachers and never expire. For information on pricing for students, sign-up for your free account, or to view a demo visit the Late Nite Labs website.
Teach Different ISTE 2013 – Teach Different is a group of ed tech specialists from iVengers Elementary Division Eanes ISD in Austen Texas, who provide technology support for over 200 classroom teachers.  These techies follow the SAMR framework that provides a lens for viewing technology integration in the classroom.
The Teach Different website contains links to each of their individual blogs, information about integrating technology into your classroom, several resources (including the best teacher approved apps), and links to every curriculum curriculum strand with lesson ideas, activities, and teacher forum discussions about the effective use of technology in the classroom.
Special Interest Groups (SIGs)
Special Interest Groups (SIGs) at ISTE
The Special Interest Group (SIG) Program offers ISTE members and all interested teachers year-round opportunities to connect and collaborate with like-minded colleagues. From mobile learning to arts education, there's a SIG for you!
SIGs offer year-round professional development opportunities, and members have access to past webinars and other resources by visiting the free, online content library.
Stay informed about issues in your field and shared best practices through the SIG listservs and online newsletters.
Have a question? Looking for advice on using a new tool? Build your network by jumping into the conversation on the various SIG online communities.
Navigate ISTE's Annual Conference and Exposition with SIG-hosted events and recommended sessions.
Gain professional skills and experience and meet new people by getting involved in one of the SIGs' many volunteer opportunities.
Join a SIG! As an ISTE member, you can join any or all of the 25 SIGs. Browse the SIG directory to learn about each SIG's mission, social networking opportunities, and upcoming events.
I belong to a few different SIG groups: Interactive Video Conferencing (SIGIVC), Innovative Learning Technologies (SIGILT), and Arts Educators (SIGAE). Each month I receive emails featuring new classroom resources, free webinars (PD), groups discussions on Twitter, professional resources, and opportunities to connect with other like-minded SIG educators.  Visit the SIG website to learn more!
Leigh Cassell
Elementary Teachers, AMDSB
Founder of the Digital Human Library
This post is also available in: Français (French)