K-12 students need to connect with Experts like you now more than ever, so they can learn with the world, about the world.
Let's work together to support youth and learning across Canada!
Digital Human Library is inviting Researchers, STEM Experts and Higher Ed Faculty to join our incredible library of Expert content partners.
dHL Experts connect with classes virtually to offer educational programs, Q&As/ inquiry support, mentorships, and career talks. Interested?
Join us for our Virtual Researcher Information Night to learn more…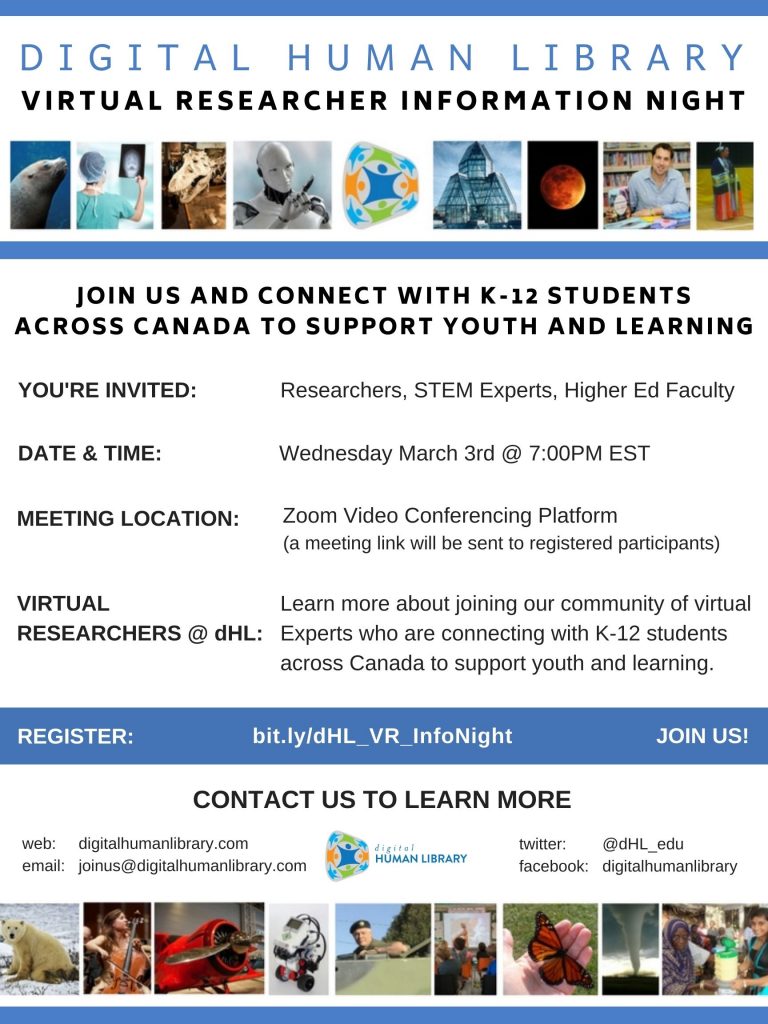 REGISTER:
Registration closes on March 1st, 2021.
Attached is our Virtual Researcher Expert Invitation which will provide you with an overview about the work we do at dHL to connect students with community partners. You can also check out our FAQs for Experts for more detailed information about your important role as a dHL Expert.
Ready to Join?
Complete our Expert Registration Form. Be sure to include Virtual Researcher as one of your Tags. You will receive an email once your registration has been approved and your profile is visible in the library.
We will be announcing all of the Virtual Researchers who registered with dHL in late March. At that time our team will be in touch with information about promoting you as dHL Virtual Researcher, which will also include an invitation to write a post for the dHL blog!
Let's work together to support youth and learning across Canada!
Questions?
This post is also available in: English (Anglais)