This post marks my entry point into the world of the New Literacies. Over the summer I began reading about the New Literacies online (sometimes referred to as the Now Literacies), and I have decided to document my new learning through a series of blog posts about this emerging topic.
Whenever I start learning something new, I often find it helpful to begin with a working definition of sorts. I set out to find some definitions of the New Literacies.
Google defines the New Literacies as "new forms of literacy made possible by digital technology developments, although new literacies do not necessarily have to involve use of digital technologies to be recognized as such".
District Admin defines the New Literacies as much more detail. . .  "Their utility lies in online reading comprehension and learning skills, or 21st century skills, required by the Internet and other information and communication technologies (ICTs), including content found on wikis, blogs, video sites, audio sites, and in e-mail. They require the ability not just to "read" but also to navigate the World Wide Web, locate information, evaluate it critically, synthesize it and communicate it-all skills that are becoming vital to success in this century's economy and workforce".
New Literacies and Classroom Practice defines the New Literacies as "a recent area of study. They draw on a number of disciplines including sociology and linguistics. They incorporate the concept of multi-literacies, including the increasing range of digital literacies, and a socio-critical perspective".
And finally, the National Council of Teachers of English provides a detailed definition of the New Literacies as "a collection of cultural and communicative practices shared among members of particular groups. As society and technology change, so does literacy. Because technology has increased the intensity and complexity of literate environments, the 21st century demands that a literate person possess a wide range of abilities and competencies, many literacies. These literacies are multiple, dynamic, and malleable. As in the past, they are inextricably linked with particular histories, life possibilities, and social trajectories of individuals and groups. Active, successful participants in this 21st century global society must be able to
Develop proficiency and fluency with the tools of technology;
Build intentional cross-cultural connections and relationships with others so to pose and solve problems collaboratively and strengthen independent thought;
Design and share information for global communities to meet a variety of purposes;
Manage, analyze, and synthesize multiple streams of simultaneous information;
Create, critique, analyze, and evaluate multimedia texts;
Attend to the ethical responsibilities required by these complex environments.
So I have a basis – a starting point anyway. I will revisit these definitions from time to time as I begin to write my own working definition based on my new learning.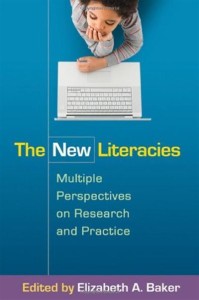 One of the most valuable spaces I have discovered dedicated to the research of the New Literacies is the University of Connecticut (UCONN):
The New Literacies Research Lab at the University of Connecticut is the most widely recognized center in the world for conducting research on new literacies, including the new literacies of online research and comprehension and the learning skills required by the Internet and other emerging information and communication technologies. Our work develops research-based evidence to prepare students for their literacy and learning future.
Through their research, they provide answers to two central questions:
What are the new skills, strategies, and dispositions required for both literacy and online learning, especially with the new literacies of online research and comprehension?
How can we most effectively prepare our youth for these new literacies?
The lab is directed by Professor Donald J. Leu, editor of the Handbook of Research on New Literacies (Erlbaum) – the second book I purchased. Dr. Leu is a past President of the National Reading Conference, the author of two major school reading/English programs, a member of the Governing Board of the New England and Islands Educational Research Lab, a former member of the Board of Directors of the International Reading Association, and a member of the Reading Hall of Fame.
I have the privilege of speaking with Dr. Leu next week to learn more about the New Literacies Research Lab and how we might work together. Stay tuned!
So I mentioned above that the Handbook of Research on New Literacies was the second book I purchased. The first book that caught my attention was The New Literacies, Multiple Perspectives on Research and Practice edited by Elizabeth A. Baker (forward by Dr. Donald Leu, UCONN). Dr. Baker is an Associate Professor of Literary Studies in the Department of Learning, Teaching, and Curriculum at the University of Missouri, where she teaches graduate seminars on new literacies, theoretical foundations of literacy, and qualitative research methods. I am currently reading this book – which – I have to be honest, brings an overwhelming amount of depth and dimension to the understanding of the larger construct of new literacies. Baker collaborates with many colleagues whom she invites into the conversation about the new literacies in an effort to expand on the "definition" and offer the most complete and comprehensive understanding  of the changes taking place in literacy today.
So here is a brief description of 6 New Literacies as I understand them . . . for now:
Basic Literacy – communicating – reading, writing, speaking
Information Literacy – the ability to know when there is a need for information, to be able to identify, locate, evaluate, and effectively use that information for the issue or problem at hand
Digital Literacy – the ability to find, evaluate, utilize, share, and create content using information technologies and the Internet
Media Literacy – the ability to access, analyze, evaluate, and create media. Media literate youth and adults are better able to understand the complex messages we receive from television, radio, Internet, newspapers, magazines, books, billboards, video games, music, and all other forms of media
Network Literacy – an emerging digital literacy that deals with computer network knowledge and skills. It is linked to computer literacy and information literacy. Network literacy relates to the basic knowledge and skills required for citizens to participate in the networked society

Citizenship – the norms of appropriate, responsible behaviour with regard to technology use
– – – – – – – – – –
My next post will be an in-depth reflection of the first chapter from The New Literacies, Multiple Perspectives on Research and Practice edited by Elizabeth A. Baker. I am looking forward to digging deeper into this topic, and I hope you will join me for the conversation!
Resources:
Academia (New Literacies: Everyday Practices and Classroom Learning)
Association of College and Research Libraries (Information Literacy Competency)
Memorial University (Researching New Literacies)
National Council of Teachers of English (NCTE)
New Literacies and Classroom Practice
New Literacies Research Lab (UCONN)
This post is also available in: Français (French)