Video conferencing remains ahead of other forms of communication because it can build the closest thing to life. In "What Technology Wants", Kevin Kelly suggests that creating a life-like experience is an "unconscious need and tendency" of video conferencing technology.
Welcome to Beam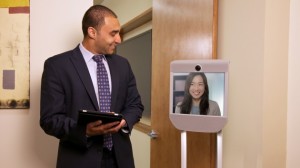 Much of the evolution behind video conferencing technology can be found in a device known as Beam.
Beam is a remote-controlled robot avatar that allows the user to occupy two places at the same time. With a 17-inch screen and six microphones, users can be heard and seen face-to-face. Using a keypad, users can manipulate their sturdy 100-pound avatar around the room and closely interact with other individuals.
Beam's infancy started with robotics. Scott Hassan founded a robotics studio based in San Francisco called Willow Garage and, anticipating the potential, he spun-off a new company, Suitable Technologies, to focus on Beam. Soon after, Hassan realized to his dismay how poorly modern robotics coped with simple tasks.
"The amount of effort it takes for the PR2 (Willow Garage's personal robotics model) to just pick up a cup requires an unbelievable amount of complication".
Hassan added that to (barely) execute a menial task with the PR2 involves his entire team.
With basic robotics and an emphasis on video, Hassan sees Beam as a simple application with an intuitive function, "be somewhere else", or, be in two places at once.
What Beam might mean
Hassan admitted that Beam is not intended for the consumer market. At $16,000, Beam remains the most expensive remote-presence technology. But, widespread applications of evolving technologies present an opportunity for us to see Beam, or something like it, in our homes in the near future. Possibly, the classroom.
Beam presents an unmatched remote presence. An instructor could use Beam to supervise a classroom while home sick or away for a board meeting. Away on vacation, the instructor could simply check-in on students.
The benefit to something like Beam is the kind of presence it creates. As opposed to just video, remote-present allows physical interaction. The base could glide across the classroom or tilt and rotate to face students. This could also pave way for different forms of collaboration. Read a student's homework by moving over to their desk, for instance.
(Students sitting in the back row? Check if they're sleeping!)
Hassan teased with these possibilities. While away on business, Hassan used Beam to occupy a once empty place at the dinner table, and helped his children pack for school with voice commands. "When my face appears on the screen", Hassan said, "my seven-year-old daughter always gives Beam a hug".
"I don't know if she realizes this isn't the norm", Hassan added.
Hugs or no hugs, Beam may well become the norm.
Sources
Kelly, K. (2010). What Technology Wants. New York: Penguin Group.
Orsini, L. (2013, September 2). Say hello to Beam, the robot that's almost as good as a hologram. ReadWrite, Retrieved from bit.ly/1b8hmDd
This post is also available in: Français (French)