In response to school closures in Ontario and across Canada, Digital Human Library is offering ALL Canadian K-12 School Districts FREE access to our Virtual Tours & Virtual Reality Catalogue, and our Live Streaming Calendar of 500+ educational programs (at Live Learning Canada) from now until the end of June.
Access Your Free Trial (March – June 2020)
If you are inquiring as a K-12 Teacher, rest assured we are working with Districts to help bring these free resources to you and your students. Please contact your District to inquire about access.
If you are inquiring as a K-12 District Leader (Director, Superintendent, Coordinator/ Coach) please complete this short form to submit your request for District services. We look forward to serving you soon.
If you are inquiring as a Homeschooler, please complete this short form to submit your request for services. We will follow up with you as soon as possible.
If you are inquiring as a Parent, please contact your child's teacher to ask about accessing Digital Human Library's free resources for your child(ren).
Digital Human Library is working with a high volume of requests for subscriptions to our digital experiential learning resources. We appreciate your patience and understanding and look forward to serving you soon.
---
Learn More About Our Free Resources: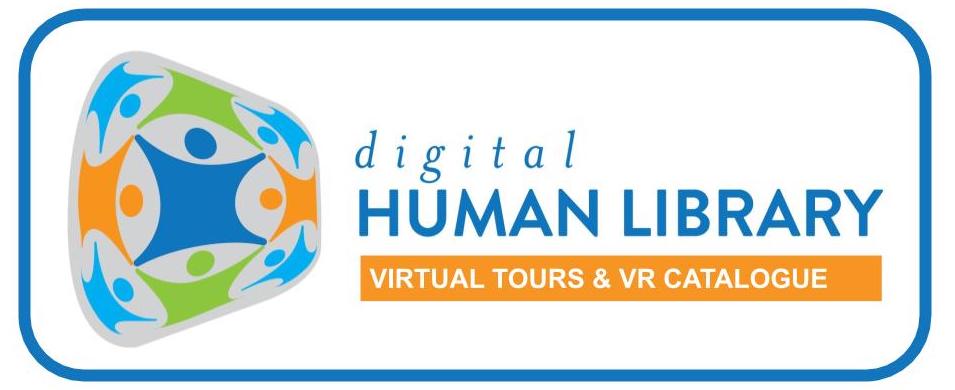 What is a virtual tour (VT)?
Virtual tours are the simulation of an existing location with the help of sequential videos or still images. Other multimedia elements like music, sound effects, floor plans, etc., could also be used. They help in recreating a realistic representation of reality. Virtual tours help in presenting views to inaccessible areas and provide an interesting and excellent alternative to fieldwork when expenses, time or logistics are a barrier.
What is virtual reality (VR)?
Virtual Reality (VR) is a 3D computer generated 'virtual' environment that users explore and interact with in an immersive way. The feeling of being present in these environments requires the use of a VR headset. Some examples include: Oculus Rift, Samsung Gear VR, HTC Vive, Google Daydream View, or Google Cardboard.
NOTE: dHL Virtual Reality experiences do not require the use of headsets. Since the foundational component of all virtual reality is 360° video, tours can be explored on desktop computers or mobile devices.
Our Collection
Browse the largest collection of educational multi-media virtual tours and virtual reality on the web! Choose from our free collection of tours, or subscribe to access over 1000 educational tours including 360° panoramas, live cameras, narrated tours, videos and virtual reality. With over 1000 tours to choose from in all K-12 curriculum subject areas, your students can explore new places and experience a world of learning like never before!
Unlimited access to over 1000 educational virtual tours and virtual reality experiences
Multimedia virtual tours and virtual reality in all curriculum subject areas
14 categories of tours to choose from (Animals, Arts & Culture (*NEW), Around the World, Exhibits, Famous Landmarks, Google Earth, How Things Are Made, Museums, Occupations, Space, STEM, Sports, Theme Parks, Weather & the Environment)
Keyword search to help you and your students find exactly what you need
Sample Tours
Blacktip Reef is a breathtaking, award-winning exhibit full of color, light and movement located in the heart of National Aquarium. This coral-filled exhibit, replicating Indo-Pacific reefs, is active with life that guests can experience from many vantage points, including a new floor-to-ceiling pop-out viewing window that allows guests to virtually come face to face with the animals.
Nearly 60 million people are currently displaced from their homes by war and persecution ? more than at any time since World War II. Half are children. This multimedia journey in text, photographs and virtual reality tells the stories of three of them. Read the introduction here and then take the tour which is hyperlinked above.
Discover online collections and exhibitions about the artists, locations and history of street art. Start your journey by exploring the map. To continue the experience, follow the Street Art Project link.
Welcome to the 360 degree Virtual Tour of Scientific Drilling International — Applied Technologies Center. The Applied Technologies Center is where Scientific Drilling International's engineers, designs, develops, tests and builds electronic tools and equipment utilized by the oil & gas industry. The tour will transport you through the Applied Technologies Center, providing information and media across multiple stages of the design, manufacturing, and testing process.
A living memorial to the Holocaust, the United States Holocaust Memorial Museum inspires citizens and leaders worldwide to confront hatred, prevent genocide, and promote human dignity. Tour the Museum's Online Exhibits and learn from the world's leading online authority on the Holocaust. Information on the site is available in 16 languages.
---

Live Streaming Calendar of K-12 Programs
Digital Human Library is a founding partner of Live Learning Canada – the first resource of its kind designed to deliver hundreds of curriculum-based live streaming educational programs for K-12 students across Canada.
In partnership with Streamable Learning, Live Learning Canada's platform provider, we are creating a new and improved role for live streaming in education to help deliver unique subject matter expertise in a more accessible and impactful educational experience and resource.
What is a live streaming educational program?
Live streaming programs are interactive experiential learning opportunities that connect students with subject matter experts delivering curriculum-based content and programs on a set date and time. Live streams are delivered online using the Zoom platform. Programs are delivered in real time with opportunities for students an interact with experts using the Chat. Book a program from our Calendar of Events on a date and time that work for you. Attend a program in a few simple clicks. Contact us to learn more!
---
Questions?
Check out our FAQs page or contact us to learn more!
This post is also available in: Français (French)